Meet Marvel's superhero and biggest enemy in the Marvel Puzzle Quest puzzle game, which has an Android version for phones and tablets.
---
The game combines favorite Marvel characters with role-playing games, a tournament between players and players, alliances and more. This is the time to free your inner hero and wage war against your enemies.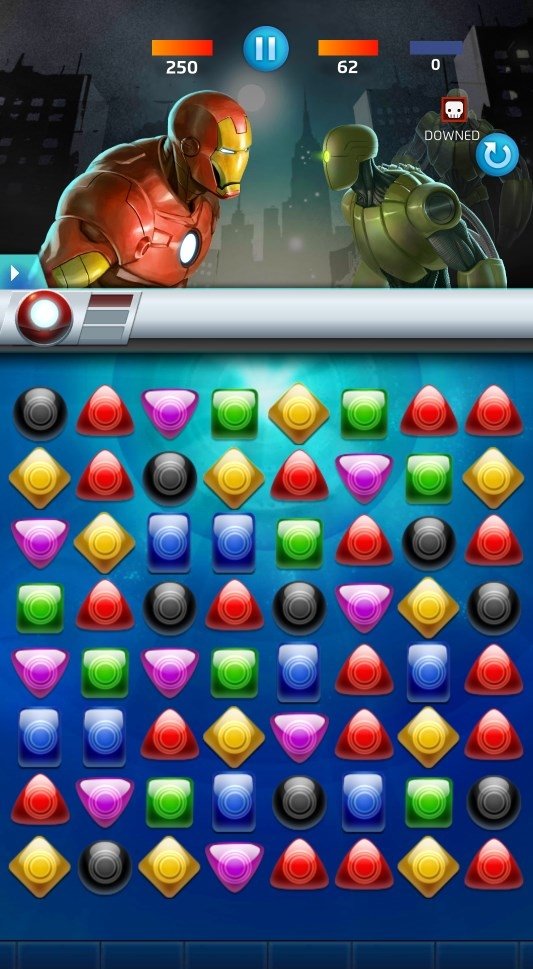 The game features elements of Bejeweled or Candy Crash Saga, mixed with Marvel characters. Gamers start the game by choosing a group of 3 characters, heroes or villains and go to fight with the Marvel Universe. Each character has three special abilities corresponding to the gem colors on the board. For example, Thor, the most destructive power when combining red, yellow, or green gemstones. The gems you combine are also collected for special attacks, from countdown arrows and to summoning demons. After each match, depending on how much your character has lost, you need to give them a break for a while.
Marvel Puzzle Quest is free for players, but there are some upgrades and purchases that require real money to purchase. You can disable billing by disabling in-app purchases on phones.
Main function:
• Play for free
• Assemble final teams from your favorite superhero or villain characters like: Captain America, Spider-Man, Hulk, Rabbit, Loki, Punisher, Black Widow, Venom and more.
• Harness the power of Iso-8 to upgrade your team and collect comics to unlock multipliers and new skills.
• New tournaments and events are released every month for players to discover new things.
• Strategy and depth are second to none! Embark on a global scale journey and unleash your power and intelligence with Marvel characters to defeat your opponents.
• Build alliances between your friends and compete with rival alliances
• Rank top in tournaments, alliances and seasons and win new characters and other exciting prizes.
• Prevent Norman Osborn and his brutal terrorist forces. Watch the stories of forces like X-Men, SHIELD, H..A.M.M.E.R (Dark Avengers) competing for resources and influence.
The application supports English, French, Italian, Spanish, Japanese and Korean.
Lester Newman November 29, 2019 My Blog, Other gamesMarvel Puzzle Quest, Marvel universe, Norman Osborn, Play for free Read more >